Sovereign Welcome New Health & Safety Manager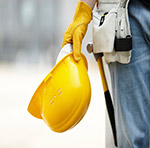 The Sovereign Group, one of the UKs largest and longest established window / door manufacturer and installer, is pleased to welcome its latest recruit to the company.
New Appointment
Ian Goddard has taken up the position of Health & Safety manager. Ian has over 15 years background experience in manufacturing and the construction industry. Ian said, "I'm extremely excited at taking the position at Sovereign and I'm looking forward to creating a safer working environment for everyone at Sovereign and our clients"
Managing Director Frances Austin explained that the company is pleased to be strengthening the existing Health & Safety Management Team and went on to say; "we are extremely pleased to welcome Ian Goddard with his experience to The Sovereign Group."
Established in 1973, Sovereign Group was one of the original innovators of PVC windows and doors and operates out of its Lancashire based 180,000 square foot production facility employing more than 200 people. Operating throughout mainland UK, Sovereign Group is a specialist in providing external envelope solutions into the public sector.
The Sovereign Group manufacturers an extremely comprehensive range of products, including the full suite of windows, composite door sets, aluminium windows and doors and has its own double glazed unit plant.
The award winning Investors In People Company also has a network of key distribution depots strategically located to service the main land UK.