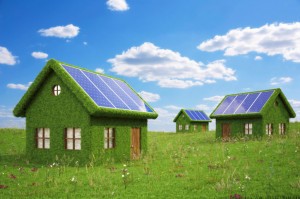 At Sovereign, we are committed to supporting green initiatives as part of our enviromental policy. Our commitment to this is embedded into our everyday business activity through our brand values.
The environment is a very important aspect of our policies so we actively support recycling programmes and sustainable waste management. We aim for ecological sustainability by using where possible, renewable and efficient energy with sustainable natural products.
We actively promote the recycling of products and materials, as well as reducing the amount of packaging associated with our product deliveries.
Our Suppliers
VEKA Recycle was launched by VEKA to prevent reusable uPVC being taken to landfill. VEKA is also the world leader for the environmentally responsible use of uPVC in all its building products. One of Europe's leading recyclers of uPVC windows, the company is committed to minimising their environmental impact at every stage of the of the product's life:
Manufacturing
Fabrication
Energy efficiency in use
Recycling
VEKA works with fabricators, installers and waste companies across the UK to ensure that valuable uPVC material is not sent to landfill. We at Sovereign Group are proud to be part of the VEKA Recycling initiative as it supports our own commitment to minimising our impact on the environment wherever we can.
VEKA Recycling is the UK's biggest initiative of its kind. Its goal is to collect and pre-process post-consumer frames and recycle this material into brand new quality windows at their purpose-built facilities across the country. This is the VEKA Infinity range.
VEKA Infinity
The VEKA Infinity window system combines sustainability with performance and style through recycled content, aesthetics and the reassurance of the VEKA brand – the most specified in the world.
VEKA Infinity is available across many different window profiles offered by Sovereign. Made from up to 80% recycled content, VEKA Infinity profiles are Matrix 70 compatible and extruded to BS EN 12608. The VEKA Infinity System is ideal for the environmentally conscious – Quality windows needn't cost the Earth.
VEKA Recycle was launched by VEKA to prevent reusable uPVC being taken to landfill.